View the status and remote control your StationPlaylist Pro* install. Works on iPhones, iPads and Android devices.
RELEASED - We are proud to announce the release of SPLRemote. Click on the relevant App Store below.
REMOTE CONTROL CAPABILITY IN-APP PURCHASE $6.99 (US$)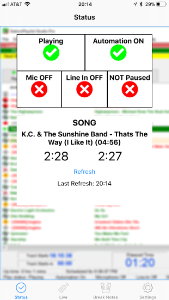 iPhone Version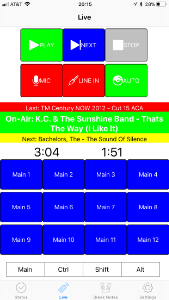 Remote CartWall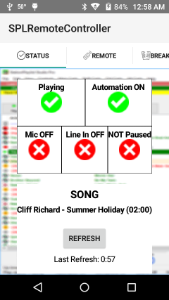 Android Version
Requirements
* - StationPlaylist PRO v5.11 or higher is required. The PRO version is needed due to the communications module being used by SPLRemote.
iOS v10 or higher
Android v4.1.2 or higher
App is a free download for all users and will provide simple status of your operation. Once you know you can connect to your StationPlaylist setup, if you wish to remote control it, a small in-app purchase is needed to allow access to the 'Live' and 'Breaknotes' tabs.
SPLRemote is designed for operating StationPlaylist in your station network (LAN) environment. If you wish to remote control a remote server setup we thoroughly recommend connecting through a private VPN (Virtual Private Network). See your station administrator for more details.